After three weeks on the beach, it was time for the next project. Through my host at Sunshine Cafe, I got a small painting gig. There is a group of Italians that built a treehouse resort on a small island, about 1 hour out into the bay. The island is quiet and rustic. The only other residents are a battalion of Cambodian special forces. You can hear them training well before sunrise and some of them spend evenings at the resort, playing dominoes and drinking beer.
There are 4 or 5 treehouses, plus a big table where food is served. They built a brick oven and I spent a few days baking bread and other goodies. Oh, did I mention that all the Italian guys are chefs, spending the summers cooking in Piedmont, Italy and the winters in Cambodia. Fresh pizzas were made, homemade gnocchi and other goodies.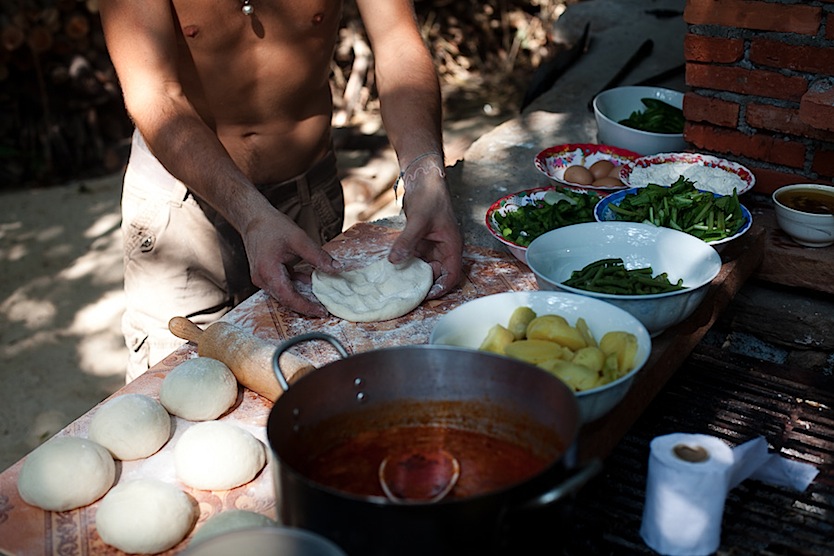 I was tasked with painting the company logo on the boat. I printed out a full size version of it on paper. This was taped to the side of the boat. I then took a hammer and nail and spent a few hours tediously making small marks in the hull, outlining the design. Worked well the first time, when the paper was fresh, but the other side of the boat was more difficult, having to remember what you tapped out already.
The logo was relatively simple, only two colors. I did the sun first and let that dry.
The boat was gone to the mainland every morning, so I had to work in the afternoons and then give it time to dry.
Then two days of the big lettering and two more days of detailing and second coating. Everyone seems pretty pleased with the results.
And I had a restful and relaxing 5 days on the island, enjoying good company and good food. And it gave me good ideas for the brick oven I have been wanting to build for a few years now.
I look forward to visiting my new friends in Italy.