I spent 11 days on the coast of Thailand, near Chanthamburi, helping out at a small resort/spa. Very quiet and a 4 minute walk from a sleepy beach, Faasai Resort is a nice place to relax for a spell.
After a day or so of pruning and weeding, sussing me out as they were, I got to do a couple of good projects.
Project 1: do a mosiac in cement. After a few design changes, looking to find the right theme, I got to work. In the end, it was't as elaborate as we were hoping, due to factors like:
I was mixing, pouring and designing all by myself. There wasn't a lot of time for nuance.
It was very hot, with still air, meaning that the concrete was kicking off quickly.
The stones were big and couldn't handle intricate designs.
Overall, it's ok. It's tough getting the batches to be consistent when mixing on the fly. But it's a pretty good circle, even if there is a little more yin than yang.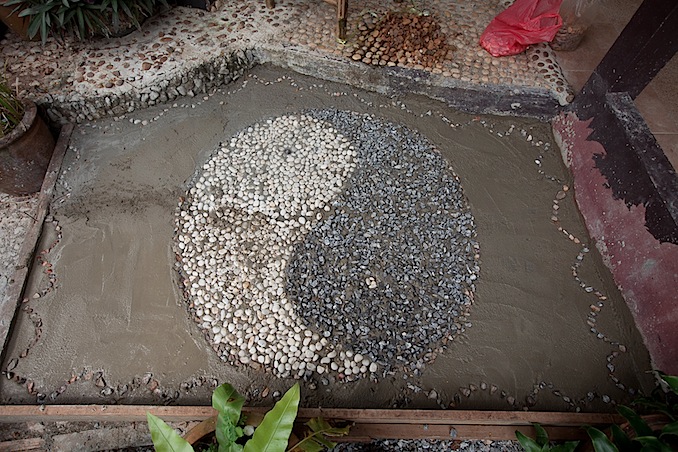 Then the next 2 full days were spent pouring more cement for the driveway. Happily, there were a couple of guys to do the mixing and pouring. My job was to place, one by one, round stones randomly in the wet cement. This involved a bit of a dance with the pourers, constantly reminding them not to do too much at once because I could only reach an arm's length.
Overall it came out well. I am pleased with the consistency of the randomness, if that is a proper concept. Entropy in equilibrium. So after 2 hot and long days, plus one additional day of cementing tiles around a pole, I was ready for a change of pace.
I was then employed to work on a mural. Along a wall in the resort, each staff member had contributed a small painting to the wall. I was tasked with tying it all together and filling in the gaps: My Sistine Wall.
My host thought i was a painter, which I am not, but I gave it a go. I drew inspiration from a book of historic Thai temple murals. I did my best to copy from their old work. One nice thing is that there was no perspective in those days, so accuracy wan't a huge deal. I used a river to bind together the disparate panels of the wall.
I added a temple, an owl, an elephant, a boat full of people, and my piece de resistance, the Tree of Life. Probably my best painting to date (out of 3 or 4 perhaps..it's not saying much) I like how it came out, esp when I figured out how to add shadows to give the branches depth. It spurred my interest in relearning some painting techniques and it would be fun to find a 20ft wall on which to paint a big one.
Beyond that, it was a quiet week. The resort was quite isolated from any sort of town and days were lazy and relaxing; a good place to get some reading and writing done.
We got a chance to go to an important festival at the local temple. It was great to hang out with the locals. As a rare farong, I stuck out quite a bit and was welcomed by all.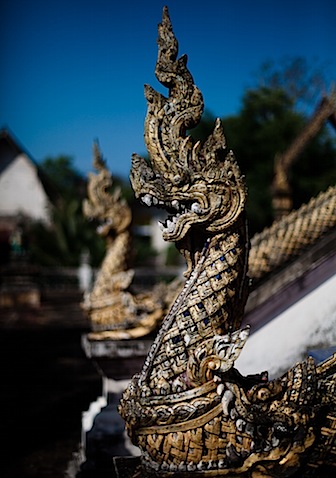 I got to meet a couple of other helpers, making their way in the world. Martin and Maria are from Argentina and were spending time in southeast Asia after a year in New Zealand. It was great to meet them and get some ideas on new ways of living. They made a strong case to head to NZ and I hope for the opportunity to see them someday in Argentina.
While I was there, an opportunity in Cambodia made itself available and I jumped on it. So now, I write to you from sleep Otres Beach, on the coast of Cambodia. Of the 4 big beaches in this party town, this is outside the main action, at the end of the long, bumpy road. Peaceful and relaxed, it's a perfect place to just chill out. My duties include hanging out behind the bar with the Polish woman that owns the place, just making sure all is well and being on the scene.
I suspect I will be here a 2 weeks or so, enjoying the pace of life, meeting the cast of cast-outs and castaways that are looking to disappear and drink cheap beer. I feel a long way from home and my cube, and am happy for it. More soon.
D